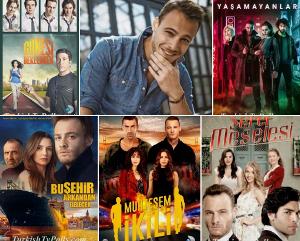 Which one is the Best Tv Series of Kerem Bürsin?
Kerem Bürsin: Kerem Bürsin (born 4 June 1987) is a Turkish actor and model known for TV shows Güneşi Beklerken (2013−2014) and Şeref Meselesi (2014−2015). Bürsin became known with his role as "Kerem Sayer" on Kanal D's Güneşi Beklerken and portrayed the deformed twin of the character named "Güneş Sayer" on the final episode of the series. In Çağan Irmak's movie Unutursam Fısılda played the role of a musician named Erhan. In 2016 he was the brandface of Mavi Jeans alongside his girlfriend Serenay Sarıkaya. Bürsin follows both Hollywood-Turkish productions and prefers to use both English and Turkish languages in acting. He has also won the Seoul International Best Actor award. Wikipedia
We choose the Best Tv Series Kerem Bürsin has acted in. You can vote only once in 24 hours.
The Best Tv Series of Kerem Bürsin