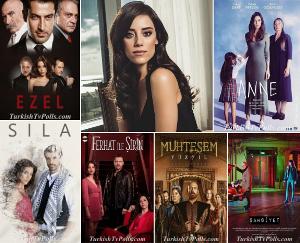 Which one is the Best Tv Series of Cansu Dere?
Cansu Dere: Cansu Dere (born 14 October 1980, Ankara) is a Turkish film and television actress, model. Her family were Turkish immigrants from Greece and Bulgaria. After graduating from the department of Archaeology at İstanbul University, Dere made her debut in both Film and Television at the beginning of 2004. Between 2006 and 2008, Dere had the leading role as 'Sila' in the Sıla series with Mehmet Akif Alakurt. She then starred as 'Defne' with Kenan İmirzalıoğlu, in the film "the Last Ottoman Yandim Ali". In 2009, she acted in the dark comedy, Acı Aşk. In 2011, she played the lead protagonist 'Eyşan' in the TV series Ezel. Wikipedia
We choose the Best Tv Series Cansu Dere has acted in. You can vote only once in 24 hours.
The Best Tv Series of Cansu Dere