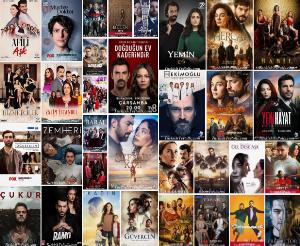 Which one is the Best Turkish Tv Series 2020?
These are our candidates: Afili Aşk, Alev Alev, Ariza, Arka Sokaklar, Babil, Baraj, Bay Yanlış, Benim Adım Melek, Bir Zamanlar Çukurova, Çatı Katı Aşk, Çukur, Doğduğun Ev Kaderindir, Ferhat ile Şirin, Gel Dese Ask, Güvercin, Hakan Muhafız, Hekimoğlu, Hercai, Hizmetciler, iyi gunde kotu gunde, Jet Sosyete, Kadın, Kirmizi Oda, Kuruluş Osman, Kuzey Yıldızı, Marasli, Masumlar Apartmani, Menajerimi Ara, Mucize Doktor, Ogretmen, Ramo, Sadakatsiz, Şampiyon, Savaşçı, Sefirin Kızı, Sen Çal Kapımı, Tutunamayanlar, Uyanis Buyuk Selcuklu, Vuslat, Yarim Kalan Asklar, Yasak Elma, Yemin, Yeni Hayat, Zalim İstanbul, Zemheri, Zumruduanka
Choose your favourite one and vote! You can vote only once in 24 hours.
This poll has been closed.
The Best Turkish TV Series 2020