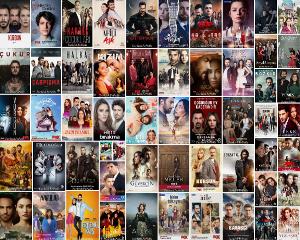 Which one is the Best Turkish Tv Series 2019?
These are our candidates: Afili Aşk, Arka Sokaklar, Aşk Ağlatır, Atiye, Avlu, Azize, Behzat Ç., Benim Adım Melek, Benim Tatlı Yalanım, Bir Aile Hikayesi, Bir Litre Gözyaşı, Bir Zamanlar Çukurova, Bizim Hikaye, Bozkır, Canevim, Çarpışma, Çocuk, Çukur, Diriliş Ertuğrul, Doğduğun Ev Kaderindir, Elimi Bırakma, Erkenci Kuş, Eşkiya Dünyaya Hükümdar Olmaz, Ferhat ile Şirin, Gülperi, Güvercin, Hakan Muhafız, Halka, Hekimoğlu, Her Yerde Sen, Hercai, İstanbullu Gelin, Jet Sosyete, Kadın, Kardeş Çocukları, Kimse Bilmez, Kızım, Kurşun, Kuruluş Osman, Kuzey Yıldızı, Kuzgun, Leke, Mucize Doktor, Muhteşem İkili, Şampiyon, Savaşçı, Sefirin Kızı, Sen Anlat Karadeniz, Sevgili Geçmiş, Söz, Vurgun, Vuslat, Yasak Elma, Yemin, Yüzleşme, Zalim İstanbul, Zengin ve Yoksul
Choose your favourite one and vote! You can vote only once in 24 hours.
Contest End Date: 20 July 2020
This poll has been closed.
The Best Turkish TV Series 2019