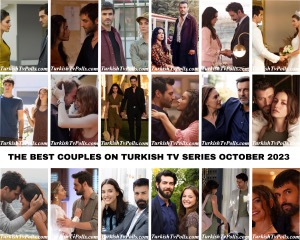 Which one is the Best Couple (or ship) on Turkish Tv Series October 2023?
These are our candidates: Alize-Serkan (Kendi Düşen Ağlamaz), Aybike-Berk (Kardeşlerim), Aylin-Murat (Kirli Sepeti), Ceylin-Ilgaz (Yargı), Damla-Sina (Benim Güzel Ailem), Devin-Aslan (Aile), Dilan-Baran (Kan Çiçekleri), Doğa-Fatih (Kızılcık Şerbeti), Farah-Tahir (Adım Farah), Feraye-Ateş (Safir), Feraye-Yaman (Safir), Figen-Mustafa (Dilek Taşı), Gamze-Ömer (Ömer), Gece-Özgür (Dönence), Gülayşe-Barbaros (Ateş Kuşları), Hira-Orhun (Esaret), Kıvılcım-Ömer (Kızılcık Şerbeti), Leyla-Kenan (Bambaşka Biri), Nana-Poyraz (Emanet), Peri-Tamer (Çöp Adam), Rüya-Yaman (Yabani), Selma-Taner (Gönül Dağı), Sevda-Kerem (Kader Bağları), Seyran-Ferit (Yalı Çapkını), Süsen-Ömer (Kardeşlerim), Türkan-Kartal (Üç Kız Kardeş), Türkan-Somer (Üç Kız Kardeş), Zeynep-Halil (Hudutsuz Sevda).
Choose your favorite one and vote!
Important Notice: You can vote only once in 1 hour!!!
End Date of Poll: 01 November 2023
This poll has been closed.
The Best Couples on Turkish Tv Series October 2023