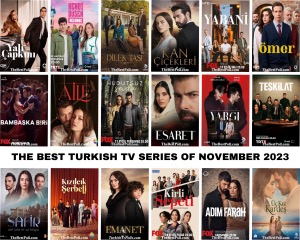 Which one is the Best Turkish Tv Series of November 2023?
These are our candidates: Adım Farah, Aile, Aldatmak, Arka Sokaklar, Ateş Kuşları, Bambaşka Biri, Dilek Taşı, Emanet, Esaret, Gönül Dağı, Hudutsuz Sevda, Kan Çiçekleri, Kendi Düşen Ağlamaz, Kirli Sepeti, Kızılcık Şerbeti, Kuruluş Osman, Ömer, Safir, Teşkilat, Üç Kız Kardeş, Yabani, Yalı Çapkını, Yargı.
Choose your favorite one and vote!
Important Notice: You can vote only once in 1 hour!!!
End Date of Poll: 01 December 2023
This poll has been closed.
The Best Turkish Tv Series of November 2023