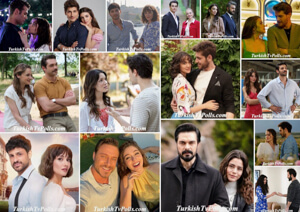 Which one is the Best Couple (or ship) on Turkish Tv Series July 2022?
These are our candidates: Asya-Tolga (Seversin), Efsun-Kaan (Senden Daha Güzel), Ekim-Kanat (Duy Beni), Emir-Gülperi (Yemin), Firuze-Kaan (Sevmek Zamanı), Gonca-Toprak (Gül Masalı), Hale-Ege (İçimizdeki Ateş), Irmak-Atlas (Kara Tahta), Jovanka-Ertan (Balkan Ninnisi), Leyla-Ömer (Kasaba Doktoru), Naz-Pamir (Gizli Saklı), Seher-Yaman (Emanet), Tülin-Doğan (İçimizdeki Ateş), Zehra-Ferit (Ah Nerede), Zeynep-Civanmert (Seni Kalbime Sakladım).
Choose your favorite one and vote!
Important Notice: You can vote only once in 1 hour!!!
End Date of Poll: 01 August 2022
This poll has been closed.
The Best Couples on Turkish Tv Series July 2022