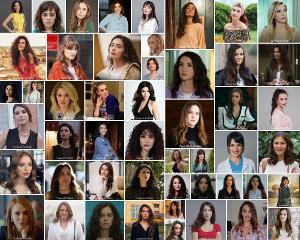 Who is the Best Actresses of Turkish Tv Series 2019?
These are our candidates: Alina Boz, Almila Ada, Asli Bekiroglu, Aslihan Guner, Aslihan Karalar, Aslı Enver, Aybuke Pusat, Ayca Aysin Turan, Bahar Sahin, Beren Saat, Burcin Terzioglu, Burcu Biricik, Burcu Ozberk, Cansu Dere, Damla Sonmez, Demet Evgar, Demet Özdemir, Deniz Baysal, Deniz Cakir, Devrim Özkan, Dilan Cicek Deniz, Ebru Sahin, Ece Uslu, Eda Ece, Elçin Sangu, Hafsanur Sancaktutan, Hande Erçel, Hazal Kaya, Hazal Subasi, Hazar Erguclu, Hilal Altinbilek, irem Helvacioglu, Leyla Lydia Tugutlu, Leyla Tanlar, Melis Sezen, Melisa Asli Pamuk, Miray Daner, Nehir Erdogan, Nurgul Yesilcay, Oyku Karayel, Ozge Ozpirincci, Ozge Yagiz, Ozgu Kaya, Sevda Erginci, Sinem Unsal, Songul Oden, Yildiz Cagri Atiksoy.
Choose your favourite one and vote! You can vote only once in 24 hours.
Contest End Date: 20 July 2020
This poll has been closed.
The Best Actresses of Turkish Tv Series 2019