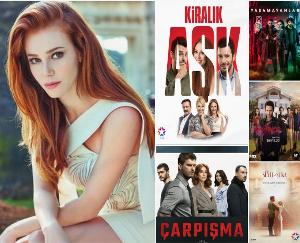 Which one is the Best Tv Series of Elçin Sangu?
Elçin Sangu: Elçin Sangu (born 13 August 1985) is a Turkish actress and model, best known for her leading role Defne in the Star TV romantic comedy series Kiralık Aşk from June 2015 until its finale in January 2017. For this work, she has been nominated and has received multiple awards in Turkey, including three Golden Butterfly Awards. Sangu also appeared in the television series Öyle Bir Geçer Zaman ki (2011), Aşk Kaç Beden Giyer (2012–2013), Bir Aşk Hikâyesi (2013–2014), Kurt Seyit ve Şura (2014), and Sevdam Alabora (2015). With her appearance on television ads and campaigns, she has become one of the highest paid celebrities in Turkey. Wikipedia
We choose the Best Tv Series Elçin Sangu has acted in. You can vote only once in 24 hours.
The Best Tv Series of Elçin Sangu