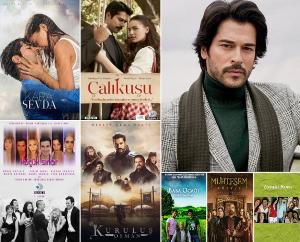 Which one is the Best Tv Series of Burak Özçivit?
Burak Özçivit: Burak Özçivit (born 24 December 1984) is a Turkish actor and model. In 2003, Özçivit was elected the Top Model of Turkey and he began working with Model Agencies. In 2005, he was chosen the second best model of the world. Burak Özçivit's acting career began with the television series Eksi 18. He later starred in the television series Zoraki Koca, İhanet and Baba Ocağı. He starred in Muhteşem Yüzyıl as Malkoçoğlu Balı Bey,then played as Kamran in the adaptation of Çalıkuşu novel with Fahriye Evcen. Together with Fahriye Evcen, he made the movie Aşk Sana Benzer. later played in Kardeşim Benim movie opposite Murat Boz. in 2015 He starred in Turkish drama series Kara Sevda as Kemal Soydere. Wikipedia
We choose the Best Tv Series Burak Özçivit has acted in. You can vote only once in 24 hours.
The Best Tv Series of Burak Özçivit