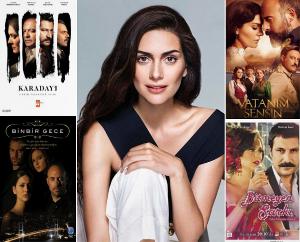 Which one is the Best Tv Series of Bergüzar Korel?
Bergüzar Korel: Bergüzar Gökçe Korel Ergenç (born 27 August 1982) is a Turkish actress. Korel made her debut as Leyla in Kurtlar Vadisi: Irak (Valley of the Wolves: Iraq). She came to wide attention after starring as Şehrazat Evliyaoğlu in Binbir Gece. She appeared in Magnificent Century as a guest role of Monica Teresse for one episode (Episode 24). In 2012, she starred as Feride Şadoğlu alongside Kenan İmirzalıoğlu in the popular series Karadayı. Wikipedia
We choose the Best Tv Series Bergüzar Korel has acted in. You can vote only once in 24 hours.
The Best Tv Series of Bergüzar Korel