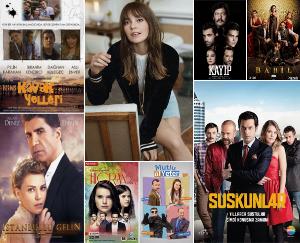 Which one is the Best Tv Series of Aslı Enver?
Aslı Enver: Aslı Enver (born 10 May 1984) is a Turkish actress. Enver started theatre at Mujdat Gezen Art Centre in Istanbul. She studied at Pera Fine Arts High School and graduated in theatre studies from Haliç University.[4] She had her first minor-guest role in Uzay sitkomu. Later, she had a part in the TV series Hayat Bilgisi and played the main character "Mine Ergun" in the popular youth series Kavak Yelleri (a remake of Dawson's Creek) for five seasons. She has acted in the movies Tamam mıyız? and Kardeşim Benim and starred in the TV series Suskunlar, Kayıp, Bana Artık Hicran De, Mutlu Ol Yeter and Kış Güneşi. Wikipedia
We choose the Best Tv Series Aslı Enver has acted in. You can vote only once in 24 hours.
The Best Tv Series of Aslı Enver