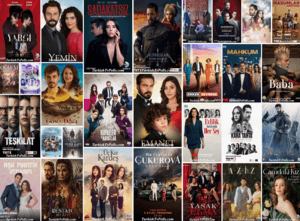 Which one is the Best Turkish Tv Series of April 2022?
These are our candidates: Adı Sevgi, Alparslan: Büyük Selçuklu, Annenin Sırrıdır Çocuk, Aşk Mantık İntikam, Aziz, Baba, Barbaroslar: Akdeniz'in Kılıcı, Bir Zamanlar Çukurova, Camdaki Kız, Destan, Emanet, Erkek Severse, Evlilik Hakkında Her Şey, Gönül Dağı, Hayaller ve Hayatlar, Kaderimin Oyunu, Kara Tahta, Kardeşlerim, Kuruluş: Osman, Mahkum, Masumlar Apartmanı, Oğlum, Sadakatsiz, Teşkilat, Üç Kız Kardeş, Üç Kuruş, Yalnız Kurt, Yargı, Yasak Elma, Yemin.
Choose your favorite one and vote!
Important Notice: You can vote only once in 1 hour!!!
End Date of Poll: 01 May 2022
This poll has been closed.
The Best Turkish TV Series of April 2022