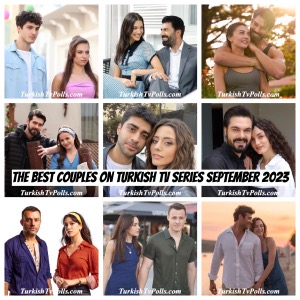 Which one is the Best Couple (or ship) on Turkish Tv Series September 2023?
These are our candidates: Alize-Serkan (Kendi Düşen Ağlamaz), Defne-Ali (Maviye Sürgün), Dilan-Baran (Kan Çiçekleri), Doğa-Fatih (Kızılcık Şerbeti), Ece-Onur (Ruhun Duymaz), Figen-Mustafa (Dilek Taşı), Gece-Özgür (Dönence), Hira-Orhun (Esaret), Leyla-Ateş (Ya Çok Seversen), Nana-Yaman (Emanet), Sinem-Nurettin (Kendi Düşen Ağlamaz).
Choose your favorite one and vote!
Important Notice: You can vote only once in 1 hour!!!
End Date of Poll: 01 October 2023
The Best Couples on Turkish Tv Series September 2023