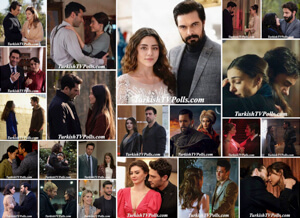 Which one is the Best Couple (or ship) on Turkish Tv Series February 2022?
These are our candidates: Akça Hatun-Alparslan (Alparslan: Büyük Selçuklu), Akkiz-Batuga (Destan), Asiye-Doruk (Kardeşlerim), Ayşe-Ferit (Kalp Yarası), Bahar-Kartal (Üç Kuruş), Ceylan-Han (Masumlar Apartmani), Ceylin-Ilgaz (Yargı), Dilek-Taner (Gönül Dağı), Dilruba-Aziz (Aziz), Efnan-Aziz (Aziz), Emir-Gülperi (Yemin), Esra-Ozan (Aşk Mantık İntikam), Gülben-Esat (Masumlar Apartmanı), Gülfem-Davut (Kanunsuz Topraklar), Leyla-Efe (Üç Kuruş), Nalan-Hayri (Camdaki Kız), Nalan-Sedat (Camdaki Kız), Safiye-Naci (Masumlar Apartmani), Seher-Yaman (Emanet), Yıldız-Çağatay (Yasak Elma), Zehra-Serdar (Teşkilat), Züleyha-Hakan (Bir Zamanlar Çukurova).
Choose your favourite one and vote! You can vote only once in 24 hours.
End Date of Poll: 01 March 2022
This poll has been closed.
The Best Couples on Turkish Tv Series February 2022