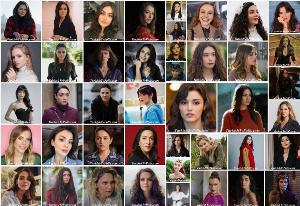 Who is the Best Actresses of Turkish Tv Series 2021?
These are our candidates: Ahsen Eroglu, Alina Boz, Aslihan Guner, Ayca Aysin Turan, Binnur Kaya, Biran Damla Yilmaz, Canan Erguder, Cansu Dere, Cansu Tuman, Ceren Yilmaz, Damla Sonmez, Demet Evgar, Demet Özdemir, Dilan Cicek Deniz, Ebru Ozkan, Ebru Sahin, Eda Ece, Esra Bilgic, Ezgi Mola, Farah Zeynep Abdullah, Funda Eryigit, Gulsim Ali, Hafsanur Sancaktutan, Hande Erçel, Hatice Sendil, Hazar Erguclu, Hilal Altinbilek, Ipek Filiz Yazici, irem Helvacioglu, Melis Sezen, Merve Dizdar, Neslihan Atagül, Nesrin Cavadzade, Nurgul Yesilcay, Oya Akar, Ozge Torer, Ozge Yagiz, Pinar Deniz, Sevda Erginci, Sevval Sam, Sila Turkoglu, Sinem Unsal, Tuba Büyüküstün.
Choose your favourite one and vote! You can vote only once in 24 hours.
The Best Actresses of Turkish Tv Series 2021