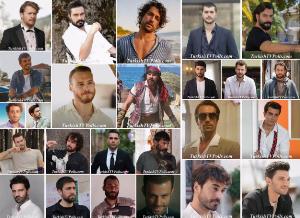 Who is the Best Actor of Turkish Tv Series September 2021?
These are our candidates: Alp Navruz (Ada Masalı), Alperen Duymaz (Son Yaz), Aras Aydın (İkimizin Sırrı), Aytaç Şaşmaz (Baht Oyunu), Barış Kılıç (Uzak Şehrin Masalı), Berk Atan (Gönül Dağı), Berk Oktay (Yasak Elma), Birkan Sokullu (Masumlar Apartmanı), Bora Akkaş (İçimizden Biri), Burak Yörük (Aşk Mantık İntikam), Çağlar Ertuğrul (Teşkilat), Engin Altan Düzyatan (Barbaroslar Akdeniz'in Kılıcı), Gökberk Demirci (Yemin), Gökhan Alkan (Kalp Yarası), Halil İbrahim Ceyhan (Emanet), İbrahim Çelikkol (Bir Zamanlar Çukurova), İlhan Şen (Aşk Mantık İntikam), Kaan Urgancıoğlu (Yargı), Kadir Doğulu (Aşkın Tarifi), Kerem Bursin (Sen Çal Kapımı), Onur Seyit Yaran (Kardeşlerim), Salih Bademci (Yalancı), Seçkin Özdemir (Baş Belası), Ulaş Tuna Astepe (Barbaroslar Akdeniz'in Kılıcı), Ümit Kantarcılar (Kazara Aşk).
Choose your favourite one and vote! You can vote only once in 24 hours.
End Date of Poll: 01 October 2021
The Best Actors of Turkish Tv Series September 2021