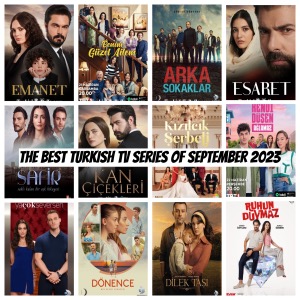 Which one is the Best Turkish Tv Series of September 2023?
These are our candidates: Arka Sokaklar, Benim Güzel Ailem, Dilek Taşı, Dönence, Emanet, Esaret, Hayatımın Neşesi, Kan Çiçekleri, Kendi Düşen Ağlamaz, Kızılcık Şerbeti, Maviye Sürgün, Ruhun Duymaz, Safir, Ya Çok Seversen.
Choose your favorite one and vote!
Important Notice: You can vote only once in 1 hour!!!
End Date of Poll: 01 October 2023
The Best Turkish Tv Series of September 2023