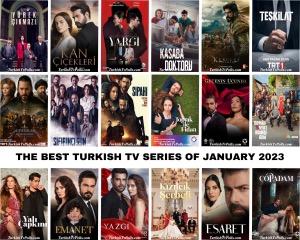 Which one is the Best Turkish Tv Series of January 2023?
These are our candidates: Alparslan: Büyük Selçuklu, Bir Küçük Gün Işığı, Camdaki Kız, Çöp Adam, Emanet, Esaret, Gecenin Ucunda, Gelsin Hayat Bildiği Gibi, Güzel Günler, Hayatımın Şansı, Kan Çiçekleri, Kardeşlerim, Kasaba Doktoru, Kızılcık Şerbeti, Kuruluş: Osman, Sıfırıncı Gün, Sipahi, Teşkilat, Toprak ile Fidan, Tuzak, Üç Kız Kardeş, Yalı Çapkını, Yargı, Yazgı, Yürek Çıkmazı.
Choose your favorite one and vote!
Important Notice: You can vote only once in 1 hour!!!
End Date of Poll: 01 February 2023
This poll has been closed.
The Best Turkish Tv Series of January 2023