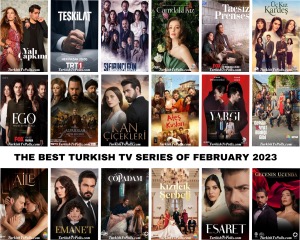 Which one is the Best Turkish Tv Series of February 2023?
These are our candidates: Aile, Al Sancak, Alparslan: Büyük Selçuklu, Ateş Kuşları, Bir Küçük Gün Işığı, Camdaki Kız, Çöp Adam, Dokuz Oğuz, EGO, Emanet, Esaret, Gecenin Ucunda, Gelsin Hayat Bildiği Gibi, Güzel Günler, Kan Çiçekleri, Kardeşlerim, Kasaba Doktoru, Kızılcık Şerbeti, Kuruluş: Osman, Sıfırıncı Gün, Taçsız Prensen, Teşkilat, Toprak ile Fidan, Tuzak, Üç Kız Kardeş, Yalı Çapkını, Yargı, Yürek Çıkmazı.
Choose your favorite one and vote!
Important Notice: You can vote only once in 1 hour!!!
End Date of Poll: 01 March 2023
This poll has been closed.
The Best Turkish Tv Series of February 2023