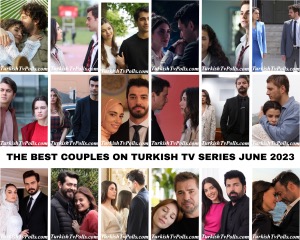 Which one is the Best Couple (or ship) on Turkish Tv Series June 2023?
These are our candidates: Asiye-Doruk (Kardeşlerim), Aybike-Berk (Kardeşlerim), Deva-Gülcemal (Gülcemal), Dilan-Baran (Kan Cicekleri), Doğa-Fatih (Kızılcık Şerbeti), Elif-Tarık (Fedakar), Gamze-Ömer (Ömer), Gülayşe-Barbaros (Ateş Kuşları), Harika-Kemal (Yüz Yıllık Mucize), Hira-Orhun (Esaret), Kıvılcım-Ömer (Kızılcık Şerbeti), Nalan-Hayri (Camdaki Kız), Nana-Yaman (Emanet), Nursema-Umut (Kızılcık Şerbeti), Peri-Tamer (Çöp Adam), Seferiye-Alparslan (Alparslan: Büyük Selçuklu), Seyran-Ferit (Yalı Çapkını), Süsen-Ömer (Kardeşlerim), Türkan-Kartal (Üç Kız Kardeş), Türkan-Somer (Üç Kız Kardeş), Zehra-Ömer (Teşkilat).
Choose your favorite one and vote!
Important Notice: You can vote only once in 1 hour!!!
End Date of Poll: 01 July 2023
This poll has been closed.
The Best Couples on Turkish Tv Series June 2023