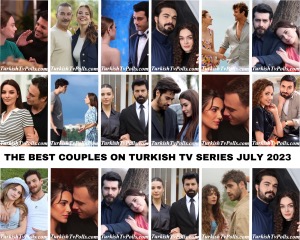 Which one is the Best Couple (or ship) on Turkish Tv Series July 2023?
These are our candidates: Alize-Serkan (Kendi Düşen Ağlamaz), Aslı-Mehmet (Veda Mektubu), Deva-Gülcemal (Gülcemal), Dilan-Baran (Kan Çiçekleri), Elif-Tarık (Fedakar), Gece-Özgür (Dönence), Hira-Orhun (Esaret), Leyla-Ateş (Ya Çok Seversen), Melike-Doğan (Kısmet), Nana-Yaman (Emanet), Serap-Faruk (Üvey Anne), Sinem-Nurettin (Kendi Düşen Ağlamaz), Yaz-Kemal (Yaz Şarkısı), Zeliş-Mehmet (Vermem Seni Ellere).
Choose your favorite one and vote!
Important Notice: You can vote only once in 1 hour!!!
End Date of Poll: 01 August 2023
This poll has been closed.
The Best Couples on Turkish Tv Series July 2023